Francis Asbury and Thomas Coke: The First Methodist Bishops Exhibit (Summer 2010)
Thomas Coke arrived in the United States in November, 1784 with instructions from John Wesley to ordain and consecrate ministers in the new country. He eventually made nine ocean voyages to North America to exercise his episcopal office. At that time, Francis Asbury had been serving on this continent for thirteen years as Wesley's "son in the gospel." Before his death in 1816, he rode approximately 270,000 miles from Maine to Georgia and from the Atlantic to the western frontier visiting societies, supervising preachers, and presiding at conferences. These two early Methodist leaders are a study in contrasts, united by a common mission "to reform the continent, and to spread scriptural holiness over these lands."
Francis Asbury, A Shepherd for America
Francis Asbury (1745-1816) was born into a humble English family, finished his formal schooling at age 12, and was apprenticed to a metalworker. His mother Eliza, a devout Christian, welcomed many evangelical speakers into their home. Young Francis was awakened to his salvation by one of these visitors, and soon after became a Methodist, a group whose doctrine and discipline he regarded as "the purest of any people now in the world." He began exhorting at age 18 and became one of John Wesley's full itinerating preachers in his early twenties. In 1771 when Wesley called for volunteers to go to America and care for the societies there, Francis volunteered. Wesley sent Asbury and Richard Wright to America with Asbury designated as the "chief assistant." To become acquainted with the societies and preachers, Asbury rode from New York to Philadelphia to Baltimore and into Virginia, the Carolinas and Georgia-every year. As the country grew, so did Asbury's circuit. He lodged with Methodist people and preached at least once, sometimes three times a day. He never had a home, wife, or family of his own. His tireless and selfless efforts to win souls gained the respect of friends and opponents alike.
An attested copy of the Rev. John Wesley's Declaration and establishment of the conference of the people called Methodists. : Enroll'd in his Majesty's court of chancery. 1784 WESL C.
The aging Wesley knew that the Methodist system of itinerant preachers would be threatened when he died. A "Model Deed," available since 1763, stipulated that after Wesley's death only preachers appointed at the yearly Conference could fill the pulpits of Methodist preaching chapels, yet there was no legal definition of the Conference. Thomas Coke's background in civil law served Wesley and the British Methodists by facilitating the incorporation of that body. Thus the preaching chapels were legally under the control of the Conference, and the Methodist itinerancy was safeguarded.
Sunday Service. 1784 METH 3 Coke carried Wesley's revised Book of Common Prayer for the new American Methodist church. It contained a shortened list of the Articles of Religion, orders of worship for Sunday, daily prayers, and special services, such as the displayed order for the ordination of a superintendent. The American preachers appreciated the orders for sacraments, but resisted the morning and evening prescribed prayers, preferring extemporaneous prayer "with their eyes closed."
A Calm Address to our American Colonies 1775 WESL E. This widely circulated pamphlet by Wesley urged Americans to be loyal to the King and abide by English law. Consequently, Methodist preachers were suspected of being loyalist spies. When Wesley ordered all his British preachers back to England in 1778, Asbury refused to leave the American connection without a shepherd. He was forced into hiding in Delaware during part of the War.
Extracts of Asbury's Journal 1792 ASBU Asbury's journal provides a first person account of Methodism's development in America. He recorded the places he traveled and preached, along with brief outlines of sermons, the state of his own physical and spiritual health, and important concerns about the connection. The preface to this edition of journal extracts makes his apology for its rough but authentic style.
Journal of Francis Asbury V.1 1821 ASBU
In 1779 Asbury faced a crisis when the Southern preachers claimed sacramental authority without being ordained-a major break from Wesleyan authority and discipline. Though a schism appeared eminent, Asbury's presence and prayer moved the pastors to stop the unapproved practice for one year and reunite with their brethren, as described in this passage. (Note especially the entries for May 9th and 10th.) A critical need for ordained clergy remained.
Thomas Coke, Wesley's Right Hand Man
Thomas Coke (1747-1813) was the only surviving child of Bartholomew Coke, a successful apothecary and city official in Brecon, Wales. Thomas entered Jesus College Oxford as a gentleman commoner, eventually becoming ordained in the Church of England and earning his doctorate in Civil Law. He was appointed curate at South Petherton parish but was expelled after only a few years for "Methodistical" leanings. Soon after this expulsion, he met and became the most trusted assistant of John Wesley, founder of Methodism.
The Christmas Conference
Asbury and Coke's first meeting was at Barratt's Chapel in Delaware on Sunday, November 14, 1784. Asbury surprised Coke by refusing to become superintendent until elected by the preachers, who were then quickly summoned to a conference. Their journals described first impressions.
Asbury wrote: I came to Barratt's chapel: here to my joy, I met these dear men of God, Dr. Coke and Richard Whatcoat, we were greatly comforted together. ... Having no opportunity of conversing with them before public worship, I was greatly surprised to see Brother Whatcoat assist by taking the cup in the administration of the sacrament. I was shocked when first informed of the intention of my brethren in coming to this country [to ordain Asbury and appoint him as superintendent for America]: it may be of God. My answer then was if the preachers unanimously choose me, I shall not act in the capacity I have hitherto done by Mr. Wesley's appointment. Coke wrote: After the sermon a plain, robust man came up to me in the pulpit and kissed me: I thought it can be no other than Mr. Asbury, and I was not deceived. (...) I exceedingly reverence Mr. Asbury: he has so much simplicity, like a child; so much wisdom and consideration; so much meekness and love; and under all this, though hardly to be perceived, so much command and authority; he is exactly qualified for a primitive bishop.
Postcard of Asbury's Ordination as Superintendent (On loan from the Manuscripts, Archive and Rare Book Library of Emory University)
Pewter plate with engraving of Lovely Lane Chapel, Baltimore, Md. (On loan from the Manuscripts, Archive and Rare Book Library of Emory University) On December 24, 1784 sixty Methodist preachers gathered at Lovely Lane Chapel in Baltimore and unanimously elected Thomas Coke and Francis Asbury superintendents. Asbury requested his friend, German minister Philip Otterbein, to participate in his consecration along with Coke, Vasey, and Whatcoat as pictured in this engraving based on a famous painting by Thomas Coke Ruckie.
The substance of a sermon, preached at Baltimore, in the state of Maryland, before the General Conference of the Methodist Episcopal Church, on the 27th of December, 1784, at the ordination of the Rev. Francis Asbury, to the office of a superintendent Coke preached the ordination sermon which was published in England. 1785 COKE
In it, he referred to Asbury as a bishop rather than a superintendent and failed to make plain the distinction between American and British Methodism.
Strictures on the substance of a sermon preached at Baltimore in the state of Maryland, : before the general conference of the Methodist Episcopal Church, on the 27th of December 1784: at the ordination of the Rev. Francis Asbury / By a Methodist of the Church of England. 1784 METH
Asbury's ordination had many critics. Charles Wesley is widely regarded as the author of this anonymously published pamphlet. He consistently opposed any separation from the Church of England and thought his brother betrayed a promise against making such a move. Charles composed hundreds of lines of scathing verse, these among them:
So easily are Bishop's made By man's or woman's whim. W____ his hands on C___ hath laid, But who laid hands on him? W____himself and friends betrays, By his good sense forsook, While suddenly his hands he lays On the hot head of C____.
Letter to the authors of Strictures on Dr. Coke's ordination sermon. 1786 COKE A
Coke responded calmly using passages from scripture, classic Christian theologians, John Wesley, and, ironically, even the verse of Charles Wesley himself to argue the points of the ordination sermon.
British Roots in American Soil
The new bishops sought to imitate Wesley and British Methodism in many ways, including the founding of schools, magazines, and a book concern. However, American preachers were more loyal to democratic principles than to Wesley. Asbury understood this; Coke often did not. Asbury's extensive travel gained him intimate knowledge of his preachers, the places they served, and potential fields for new spiritual harvest. He applied Wesley's method of forming new and dynamic circuits supplied by itinerant preachers, which allowed the Methodist Episcopal Church to expand along the American frontier. Coke's frequent absence to attend to duties in Britain, especially after Wesley's death in 1791, decreased his influence in America.
An Address to the Friends and Subscribers for the Support of Cokesbury College, and to the Members of the Methodist Society to Which are Added the Rules and Regulations of the College (bound with the 1788 Discipline). 1788 METH.
Cokesbury College was established in Abingdon, Maryland, modeled after Wesley's Kingswood school and intended to educate, among others, preachers' sons and charity cases. This address by Coke and Asbury outlines plans for the school; the pages on display specifically outline the curriculum. Financial troubles plagued the school, and a fire destroyed it in 1795. Asbury, never as enthusiastic about the college as Coke, especially mourned the loss of the library.
Minutes of Conferences (turn to 1787 "when present in the states" & no mention of JW). 1795 METH A.
Because Coke's duties in Britain allowed only biannual or quadrennial trips to America, he was acknowledged as superintendent only "when present in the states." A further indication of American independence was a two year absence of Wesley's name from conference minutes and the declining of Wesley's instructions to ordain Richard Whatcoat a superintendent in 1787. Whatcoat was eventually elected bishop in 1800.
Arminian Magazine Volume I BX8201 .A7 1789 (Loaned by the Manuscript, Archives, and Rare Book Library, Emory University)
Arminian Magazine published sermons, testimonies and other inspirational items including the journals of Wesley, Coke, and Asbury. These pages describe the greetings Bishops Coke and Asbury sent to George Washington, newly elected President of the United States, on behalf of the conferences, along with Washington's reply. The magazine ceased publication after two years due to slow sales, and was replaced in a decade by the equally short-lived Methodist Magazine. Methodist periodicals did not flourish in the States until the 1800's.
The substance of a sermon preached in Baltimore and Philadelphia, : on the first and eighth of May, 1791, on the death of the Rev. John Wesley. 1791 COKE
Because of Wesley's death, Coke cut short his 1791 stay in America and returned to England, hoping to be of service, perhaps even as president of the Methodist Connection. Before departing from Philadelphia he communicated secretly with Bishop William White of the Protestant Episcopal Church about the possibility of reunification with The Methodist Episcopal Church. This intrigue was not made public until much later, and then served to further undermine American Methodist confidence in Coke.
The Father of Methodist Missions
As early as 1783 Coke advocated for a greater Methodist presence in the "world parish." He worked to evangelize Scotland, the West Indies, Sierra Leone, and was en route to Ceylon when he died on May 3, 1813. These trips and his eighteen trans-Atlantic voyages to help establish the Methodist Episcopal Church have rightly earned him the title "Father of Methodist Missions." He drafted frequent appeals and publications aimed at garnering contributions for mission ventures.
Asbury's Journal Vol III: Coke's Marriage. 1821 ASBU
By 1805 Thomas Coke was all but convinced that he was of more use to global mission than to the Methodist Episcopal Church in America. He married Penelope Goulding Smith who was willing to invest her life and substantial fortune in the advancement of Methodist missions. The couple agreed to come to America, though Coke insisted on many concessions due to his wife's delicate health, and the trip never occurred. Coke's marriage was happy but short, ending in his wife's death after five years. His second marriage lasted less than one year, again ending with his wife Ann's death. Asbury acknowledged that marriage was an honorable estate, but regretted its effect on commitment to itinerant ministry, as stated in this very famous entry in his journal upon learning of Coke's marriage on page 173.
History of the West Indies V1-3. 1808 Coke
Though largely derived from other sources and ghostwritten by his friend and editor Samuel Drew, this set is a testimony to Coke's love for the people of the Caribbean islands. Drew also assisted with Coke's magnum opus, a six volume Commentary on the Holy Bible, first published in 1801.
A sample of mission reports to subscribers.
An account of the rise, progress, and present state of the Methodist missions by the Rev. Dr. Coke, general superintendant of these missions. 1804 COKE.
The annual report on the state of the missions : which are carried on both at home and abroad by the society late in connexion with the Rev. John Wesley : addressed in particular to those generous subscribers who have contributed to their support. 1808 COKE A
An interesting narrative of a mission, sent to Sierra Leone, in Africa : by the Methodists, in 1811 : to which is prefixed, an account of the rise, progress, disasters, and present state of that colony : the whole interspersed with a variety of remarkable particulars. 1812 COKE
Conflicts in the Connection
As the Methodist Episcopal Church grew, meeting with every conference became unmanageable for one resident bishop. In 1789 Asbury proposed a Council of bishop (with veto power) and presiding elders and to make decisions for the whole connection . Coke did not initially raise objections, but later sided with those opposed to Asbury.
Asbury's Journal Vol II (p. 146 November 8, 1792 O'Kelly left the connection) 1821 ASBU
James O'Kelly, a presiding elder in Virginia and member of the Council, attended it's 1789 session, but absented himself from its 1790 final meeting. He strongly objected to the degree of authority resting with the episcopacy, especially the right to station preachers without appeal. Coke allied himself with O'Kelly, while a majority of elders supported Asbury. To keep peace, Asbury turned over the chair of the 1792 Conference to Coke and abandoned the Council. Even so, O'Kelly eventually withdrew from the Methodist Episcopal Church, taking approximately one thousand members with him and, in 1793, founding the short-lived Republican Methodist Church.
Causes, Evils and Cures of Heart and Church Divisions 1792 BAXT
Though Asbury firmly denied O'Kelly's charges of Episcopal tyranny, the schism caused him grief. To promote unity, he abridged two older works by Jeremiah Burroughs and Richard Baxter and authorized them to be published, recommended to the Conference, and distributed through the Methodist Book Concern.
The Flame of Revival
In the late 1790's and into the new century the religious revival known as the Second Great Awakening greatly influenced and increased Methodism. Membership quadrupled between 1800 and 1816, reaching 214,235 in the year of Asbury's death. The number of preachers grew from 10 in 1793 to 695 in 1816. Bishops Asbury, Whatcoat, and William McKendree (elected in 1808) were challenged to create more and more circuits and to supply those stations with preachers.
Ordination Certificate.
The deacon's ordination certificate from 1811 has Asbury's name entered as ordaining bishop at the top and his signature and seal at the bottom. In his thirty-two years as a bishop, Asbury presided at approximately 270 conferences and performed an estimated 4000 ordinations.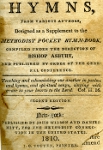 The Methodist pocket hymn-book : revised and improved: designed as a constant companion for the pious of all denominations. 1810 METH:1 Methodist Episcopal Church.
A Selection of hymns : from various authors : designed as a supplement to The Methodist pocket hymn book. 1810 METH:2
Bishops Asbury and Coke first revised this collection in a convenient and inexpensive format so that circuit riding preachers and lay people in classes or camp meetings could sing "with spirit and understanding." The 36th edition of the hymn book is bound together with new songs recommended by preachers and approved by Asbury. He and Bishop McKendree commended The Double Hymn Book as a bargain.
Letter from Asbury to Coke (Loaned by the Manuscript, Archives, and Rare Book Library, Emory University)
Asbury's affection and respect for Coke transcended the tension in their shared episcopacy. This warm, handwritten note was appended to a longer report meant to keep Coke informed of conference activities. The text reads:
Baltimore, Maryland April 15, 1805 My very dear Brother: Grace, great grace let it rest upon thee. I have been waiting to hear from you, but there has no letter as yet appeared. The winds, the wave, the wars, or something hath prevented. I have sent you an annual epistle that will give you a general view of four of the yearly conferences that have had their setting in great peace and good order. The menace of numbers so far, upwards of seven thousand, increase of preachers fifty, several returned to the work that have been located. It was thought I was going home last fall but I was returned again to serve and to suffer a little while. I am as ever thine, Francis Asbury
Extracts from original letters, to the Methodist bishops, mostly from their preachers and members in North America : giving an account of the work of God, since the year 1800 / Prefaced with a short history of the spread and increase of the Methodists, with a sketch of the camp meetings, by Lorenzo Dow. 1806 EXTR Bishop Asbury understood that people needed a religion of the heart, and so was a great proponent of the religious fervor of camp meetings. Others in the country accused Methodists of emotionalism, even rowdiness. Famous and eccentric Methodist preacher Lorenzo Dow wrote his observations and defense of camp meetings, supplemented with epistles sent to the bishops, which witnessed to the good work of the denomination.
Asbury Remembered
In the years since his death on March 31, 1816, Asbury has been praised for his unselfish leadership and personal sacrifice for the sake of Christ as well as questioned for his assumption that every other Methodist should have as much dedication and discipline. Not all are saints with the same wisdom and devotion as Asbury.

Reputed Fragment of Asbury's First Coffin
Francis Asbury died at the farm of George Arnold in Virginia and was buried nearby. In May the General Conference passed a resolution to move his body to Baltimore for reinternment in the Eutaw Street Church. The preservation of this piece of wood, claimed to be a part of Asbury's coffin, seems to treat it as a holy relic and Asbury as a saint.
Handwritten copy of Asbury's last will and testament (Loaned by the Manuscript, Archives, and Rare Book Library, Emory University)
Asbury was known for his material austerity and generous spirit. He received the same salary as any traveling preacher: $65, then $80 dollars a year. He owned one suit of clothing and two horses. Yet, he often gave away his last dollar to someone in need. His will was not complicated, but did include asking the Book Concern to give a Bible to each of his "nominal children," the hundreds of persons named for him.
Reminiscences, Historical and Biographical, of Sixty-four Years in the Ministry, Boehm, Henry, 1775-1875: Boehm, Asbury's traveling companion and helper for five years, recorded his view (shared by many) of the Bishop's character and the reasons he was regarded as "the venerable Asbury." Take special note of the passage from the bottom of page 458 through page 459. 1866 BOEH
The Francis Asbury Monument in the National Capital In 1925 a statue in Washington paid tribute to "The Pioneer Bishop" whose leadership grew the people called Methodists along with a nation. 1925 FRAN