African Orthodox Church Exhibit, January 2009
Daniel William Alexander
The African Orthodox Church was founded in South Africa in 1924 by priests from the independent African Church. These priests were dissatisfied with the administration of the African Church and believed that they could establish and run an independent church for Black Christians that would be more responsive to their own needs and to the needs of their parishioners. One of the priests in this group was Daniel William Alexander who held superior leadership abilities. At the very same meeting in which the priests decided to resign from the African Church and to form their own independent church, the also elected Alexander to the position of Bishop.
Alexander was born in South Africa on December 12, 1882. His mother is believed to have been a native South African and his father is known to have immigrated to South Africa from the West Indies. Alexander was baptized in the Anglican Church of the Province of South Africa and, according to his own account, attended Roman Catholic schools until 1895. Although it appears that Alexander's formal education ended at the age of thirteen, he was quite literate. It was supposedly he who read of an African Orthodox Church in America and brought news of its existence to the attention of his colleagues.


From Left to Right: Revd S.P. Manzini, His Eminence Daniel William, and Revd A.Z. Levala
Click Image for larger version.
George Alexander McGuire
Indeed, unbeknownst to those of the African Orthodox Church in South Africa, a church in America of the same name and goals had been established 1921 by George Alexander McGuire. McGuire was an emigrant to the United States from Antigua and served as a priest in the Protestant Episcopal Church until 1918. McGuire's experience in the Episcopal Church had been tainted with incidents of discrimination against himself and fellow black clergy. He severed his ties with the Church and decided that only in a denomination of Blacks with a Black administration would equality and spiritual freedom be attained.
McGuire's search from black equality led him to Marcus Garvey and to Garvey's Universal Negro Improvement Association. Garvey supported McGuire's notion of a Black denomination and once McGuire founded the African Orthodox Church, Garvey used his periodical entitled The Negro World to disseminate the news throughout Africa.
Affiliation between United States and South Africa
Surprisingly, George Alexander McGuire had been consecrated by a white man named Joseph Rene Vilatte. McGuire assumed the title Alexander I, Primate of the African Orthodox Church. Vilatte's religious background and consecration were dubious, but his credentials satisfied McGuire and strongly impressed the priests of the African Orthodox Church in South Africa. They wrote McGuire requesting permission to affiliate with the African Orthodox Church in the United States and to have Alexander consecrated by McGuire.
McGuire' response to the South Africans' proposals was a request for information on the group and the church that they were forming. They were asked to send their statement of faith and their divine liturgy in addition to the credentials of the clergy. After review and some negotiation Alexander was invited to America. He sailed to America in 1927 and on September 11 he was consecrated by McGuire in Boston.


Letter from Rev. Daniel William Alexander to his wife on the occasion of his ordination.
September 1927.
Click on Image for full letter in a larger version.
Life of the South African Orthodox Church
After his consecration, Alexander returned to his parish in Kimberley, South Africa. His church, St. Augustine of Hippo, become the center of African Orthodox activity in South Africa. From this base, Alexander traveled all over South Africa and set up parishes wherever he found interest. His missionary activities also took him into countries outside of South Africa such as Kenya, Uganda, and Rhodesia, where he trained priests and baptized communicants. Back in Kimberley, he organized a seminary to educate his priests and annual synod meetings to discuss church business. All the while Alexander continued to correspond with McGuire in America until a letter arrived in 1935 informing him of McGuire's death. Board meeting minutes and church services registers from the St. Augustine of Hippo Church are displayed here.


Confirmation certificate from the African Orthodox Church
Click on Image for larger, readable version.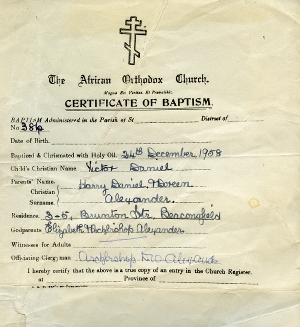 St. Augustine of Hippo Seminary in Kimberley, South Africa


Syllabus of St. Augustine's Seminary, 1928
Click on Image for Full Syllabus.
Materials from the St. Augustine of Hippo Seminary in Kimberley, South Africa comprise a significant part of the collection, such as the graduation certificate of David William Alexander's son, Jacobus Alexander displayed here.


Oath taken by graduates of St Augustine of Hippo Seminary, African Orthodox Church
Click on Image for larger, readable version.
Additional African Church Affiliations
The African Orthodox Church was highly successful in attracting many qualified priests into their ranks from other churches across Africa.


Ordination Certificate from the Christian Catholic Apostolic Church in Zion, 1948
Click on Image for larger, readable version.


Ordination Certificate from the African Orthodox Church, 1947.
Click on Image for larger, readable version.


Local Pastoral's Licence, Imperial Coptic Ethiopian Church of Ethiopia, 1955.
Click on Image for larger, readable version.


Appointment Certificate from the National Church of Africa, 1943.
Click on Image for larger, readable version.


Ordination Certificate from the African Church.
Click on image for larger version.
Transition
The strong relationship between the South African and American churches continued after McGuire's death and the election of a new patriarch in America, James I. However a turning point came in 1960, after a delegation from America visited Alexander and his church in South Africa. The members of the delegation, which included Patriarch James I, had been invited to South Africa by Alexander.
At the age of 78, Alexander no doubt feared for the survival of his church parish after his death. The African Orthodox Church needed a consecrated bishop and Alexander had agreed, after his own consecration by McGuire, that only the Patriarch could perform a consecration. The presence and approval of James I was necessary if Alexander's two bishop-elects, Ice Walter Mbina and Surgeon L. Motsepe, were to assume their duties and lead the South African church after his death.

Asperges Me. Gregorian Chant Harmonized by Dr. Fr. X. Mathias with handwritten English translation. Click on images for larger, readable versions.
Credo (incomplete). Composer Unknown. Musical Setting of the Nicene Creed.
Click on Images for larger, readable version.
Conflict Continues
While the consecrations were performed without incident, the Patriarch's visit proved to be a disaster for Alexander. In order to usurp Alexander's leadership Mbina and Motsepe enumerated his mistakes and shortcoming to the Patriarch. Convinced that Alexander was inept, James I ordered him to resign his position as archbishop in favor of the two newly consecrated bishops. Alexander found this interference by the Patriarch intolerable and refused to relinquish leadership. He maintained that he and McGuire had agreed that the American church only had power over the African church in spiritual and not in temporal matters. The Patriarch was infuriated by Alexander's refusal to relinquish his leadership and both sides turned to legal counsel. Before the matter could be resolved both James I and Motsepe died. Alexander was reconciled by the new patriarch, Peter IV, and agreed to submit to Mbina.
It is uncertain whether Alexander's submission was intended to give him time to rally his supporters or whether he simply changed his mind after his reconciliation. What is clear is that in 1963 Alexander broke away from Mbina and the American African Orthodox Church. With his supporters he formalized the autonomy that he believed McGuire had intended for the African church by naming his body the African Orthodox Church of the Republic of South Africa and by becoming its patriarch. Within the collection, correspondence with Mbina ended in 1963 and no further evidence of the survival of his church is contained in the collection.
Alexander died in May 1970 at the age of 88. He remained the Patriarch of the African Orthodox Church of the Republic of South Africa until his death although leadership of the church was shared with his godson Daniel Kanyiles during the last few years. Kanyiles assumed the title of Patriarch James II after Alexander's death. The official certification of Kanyiles as Patriarch is included in this selection. The African Orthodox Church still exists today in several countries, albeit within a much smaller scope than it once held.
For more information regarding this material, please consult collection RG 005 in the Archives and Manuscripts Department Located on the fourth floor of the library.