"Living Hope": The Testimony of African American Spirituals and Hymns (2000)
African American religious music has generally been born of suffering yet focused on hope-hope for a better world, where oppression and suffering give way to justice and freedom. In the spirituals and hymns that have grown out of African American experience, this hope has most often been expressed in terms of a heaven beyond this world, where all will be made right. That vision of hope has never failed, though, to stir longings for something better "here and now" as well. The music of this tradition has made, and continues to make, an indelible impression on the landscape of American (and world) culture-expressing a proud heritage of faithful endurance, offering a testimony of hope to all who suffer, enlarging many human hearts through unique poetic power, even challenging public policy through compelling portraits of a just and free society.
Pitts Theology Library is proud to display here samples from its Hymnody Collection that recall this powerful tradition of testimony to living hope for a better world.
Early Publications of Spirituals
The folk songs created by African slaves over a period of more than two centuries, mostly on the fields and plantations of the American South, are most commonly referred to as "Negro Spirituals," or simply "Spirituals," but other labels, such as "Jubilees" and "Melodies," have also been used. These songs were, of course, originally passed along orally, often with regional variation. After Emancipation, however, in the late nineteenth and early twentieth centuries, it became popular to publish collections of these songs, often with musical scores, and a trend toward standardization emerged. Some samples of these early published collections are displayed in these first four cases.
Rodeheaver's Plantation Melodies. Chicago: The Rodeheaver Com-pany Publishers, 1918.
Homer Alvan Rodeheaver (1880-1955), a white composer of "Gospel Hymns," published collections of the Melodies and Spirituals he heard in East Tennessee at his mother's side when "the negroes would come and sing for her." "Swing Low," shown here, is one of the best-known Spirituals.
Plantation Melodies and Spiritual Songs. Edited by John Nelson Clark Coggin. Philadelphia: Hall-Mack Company, 1913.
John Nelson Clark Coggin, the compiler of this collection, was an African American Methodist minister. A native of Mississippi, Coggin was educated at Gammon Theological Seminary and at Clark University in Atlanta. After a lengthy ministry in Covington, Georgia, he was appointed Secretary of the "Department of Colored Work" of the Methodist Episcopal Church in Washington, D.C. Especially interesting at this opening is the compiler's note at the bottom of selection 130 regarding the compositional context of the song. For a close up of the text at the bottom of the page displayed above click here.
The Dett Collection of Negro Spirituals. Arranged and edited by R. Nathaniel Dett. Chicago: Hall & McCreary Company, 1936.
R. Nathaniel Dett (1882-1943) was an African American Presbyterian composer and compiler of hymns. Displayed here is the Fourth Group (of four) of his collection of Spirituals. Serving as an introduction to this set is Dett's essay, "The Development of the Negro Spiritual."
Rodeheaver's Negro Spirituals. Chicago: The Rodeheaver Company, 1920.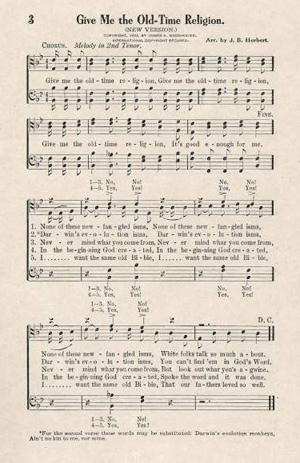 Note in this "new version" of "Give me the Old-Time Religion" the reference to Darwinism in verse 2 (and its alternative wording in the note at the bottom of the page). Note also the rubrics suggesting the appropriate shout at the end of verses 1-3 and 4-5, respectively.
Songs of the South: Words and Music of 17 Favorite Negro Spirituals. Atlanta: Published for the Conference on Education and Race Rela-tions, 1936 [?].
Selected from another of the Rodeheaver collections, Southland Spiri-tuals (1936), and republished for the Conference, these seventeen songs represent some of the most-well-known Spirituals.
Negro Spirituals: For Three-Part Treble Voices. Arranged by Noble Cain. New York: Harold Flammer, Inc., 1946.
Howard Thurman. Deep River: Reflections on the Religious Insight of Certain of the Negro Spirituals. New York: Harper and Brothers, 1955.
The collection of nine Spirituals arranged by Noble Cain (1896-1977) attempts to preserve the dialect in which the songs were originally sung: "Joshua Fit de Battle ob Jericho," "Ole Ark's a Moverin'," "Peter, Go Ring Dem Bells." The opening displays the first two pages of the song, "Deep River," the title of which noted African American minister, theologian, and educator, Howard Thurman (1900-1981), adopted for his meditations and theological reflections on selected Spirituals.
A Hundred and Twenty Negro Spirituals. Selected by Alexander Sandilands. Morija, Basutoland, South Africa: Morija Sesuto Book Depot, 1951.
Alexander Sandilands, a white South African, indicated in his introduction that he compiled this group of African American Spirituals for use by the Bantu of Southern Africa. He expressed hope that these songs would be a welcome alternative to the "yoking of British and American tunes to badly translated chunks of unidiomatic vernacular prose" that he had often observed in Africa. The "Tonic Sol-fa" notation, which Sandi-lands thought would be most useful for his intended audience, is a notable feature of this collection.
The Story of the Jubilee Singers, With Their Songs. Prepared by J. B. T. Marsh. Revised edition. Boston: Houghton, Mifflin and Company, 1880.
R. Nathaniel Dett suggested that the African American Spirituals first became widely known in the nation and in the world during the second half of the nineteenth century through the celebrated musical ministry of the "Jubilee Singers" of Fisk University in Nashville, Tennessee. This volume, prepared by J. B. T. Marsh, is an abridgement of two larger narratives by G. D. Pike on the work of the Jubilee Singers and their world travels. Following the narrative account is a collection of more than 100 of the songs they made famous.
National Jubilee Melodies. Nashville: National Baptist Publishing Board, 19??
This collection, which the compilers dedicate "to the memory of our religious Negro ancestry who served 250 years in the chains of American slavery¿," brings together 156 songs "from the various rice, cane and cotton plantations of the South-just as they were handed down by tradition ¿ and kept alive by the offspring of these old slaves." The selection, "Free at Last," at the opening here is, of course, the one made famous throughout the world by Dr. Martin Luther King, Jr. Note the use of "shape notes."
Later Collections in Hymnals
The pamphlet-style collections of Spirituals displayed in the first four cases represent one venue for their publication, but they were also published early on in hymnals. This is especially true of hymnals compiled by churches in the evangelical and revivalist traditions, whether predominantly African American or European American. In these hymnals, the Spirituals and other specifically African American contributions are typically nestled among a much larger number of (sometimes modified) traditional revivalist songs and evangelical hymns by noted white hymnists like John and Charles Wesley, Isaac Watts, and Fanny Crosby. A new phenomenon toward the end of the twentieth century was the publication of specifically African American hymnals by American churches, historically devoted to classical European liturgical traditions, for the enrichment of both European American and African American constituents.
The Hymn Book of the African Methodist Episcopal Church. Thir-teenth edition. Philadelphia: Publication Department of the A. M. E. Church, 1884.
Like most hymnals published before the twentieth century, this early hymnal of the African Methodist Episcopal Church (first published in 1876) includes only hymn texts without musical scores. Selection 1029, "Freedom's Jubilee," which is displayed here, is clearly a post-Emancipation composition, but most of the hymns in this collection are by the Wesleys and other early Methodist or evangelical authors.
The African Methodist Episcopal Hymn and Tune Book. Fifth edition. Philadelphia: African Methodist Episcopal Book Concern, 1911.
Originally published in 1898, this was the first A. M. E. hymnal to include music. A. M. E. Bishop James C. Embry (1834-1897), who was the chair and driving force of the hymnal committee, died unfortunately just before the hymnal saw publication. The images here displays two of his own hymns that were included in the collection: "Cold Gethsemane" (#602) and "The Mystery of Power-Wisdom-Love" (#603).
The National Baptist Hymnal. Nashville: National Baptist Publishing Board, 1903.
The first hymnal of the first national connection of African American Baptists (the National Baptist Convention, USA, formed in 1895) was this 1903 compilation, edited by R. H. Boyd and William Rosborough. Modeled very closely on The Baptist Hymnal, published in 1883 by the (predominantly European American) American Baptist Convention, it includes a supplement of mostly African American contributions. At the opening are original compositions of William Rosborough and W. H. Sherwood, prominent early twentienth-century hymnists among African American Baptists.
The New National Baptist Hymnal. Nashville: National Baptist Publishing Board, 1977; Special edition, 1993.
This 1977 hymnal has been described as one of the most significant African American hymnals published during the post-Civil Rights era, noted for its clear reflection of the new forms of social consciousness among African American Christians that emerged in the late 1960s and early 1970s. The Pitts Library's copy of the beautiful "Special Edition" of 1993 is open here to "Lift Every Voice and Sing" by James Weldon Johnson (words) and R. Rosamond Johnson (music).
Songs of Zion. Supplemental Worship Resources 12. Nashville: Abingdon Press, 1981.
During the last quarter of the twentieth century, several historically European American churches and the Roman Catholic Church in America began to publish specifically African American hymnals. The United Methodist Church published this collection in 1981 as a "supplemental resource" after discovering that there were only a handful of African American contributions in their official Book of Hymns. The committee's aim was to "develop a songbook from the Black religious tradition" that would "enrich the worship of the whole church."
Lead Me, Guide Me: The African American Catholic Hymnal. Chicago: G. I. A. Publications, Inc., 1987.
This Roman Catholic hymnal was prepared by the Black Catholic Hymnal Committee under the leadership of African American Bishop James P. Lyke. A broadly ecumenical collection, it incorporates selected traditional Catholic and Protestant hymns as well as African American Spirituals and Gospel Songs to form a hymnal designed to meet distinctive liturgical needs of African American Catholics. The opening here illustrates this blending of spiritual traditions.
Lift Every Voice and Sing: A Collection of Afro-American Spirituals and Other Songs. New York: The Church Hymnal Corporation, 1981.
This first effort of the Episcopal Church, published the same year as the United Methodist Church's Songs of Zion, was compiled with a similar purpose-to bring together songs of the African American and evangelical traditions, both to meet the needs of black Episcopalians and to broaden the base of liturgical resources available to the church at large.
Lift Every Voice and Sing II: An African American Hymnal. New York: The Church Hymnal Corporation, 1993.
The official musical resource of the Episcopal Church, The Hymnal, was revised in 1982 to be "a far more inclusive and representative resource" than it had been before, incorporating African, Caribbean, Hispanic, Native American, African American, and other sources. Subsequently, in 1993, Lift Every Voice and Sing was completely revised and expanded to become an official supplement to The Hymnal, "providing additional resources from the black musical experience" for the benefit of the whole church.